Dada & Babu
Indian Classical Music, World Music, Indo-Jazz & Creative Improvised Music
Dada & Babu is the musical duo of Ciro Montanari and Andrew Kay. The two eclectic musicians met through their attraction to Indian Classical music in 'The City of Joy' – Kolkata, India. In turn they ventured to the 'Abode of Peace' – Shantiniketan, West Bengal and created the beginnings of the story of Dada & Babu. Taking on the colloquial  Bengali nicknames for Big Brother and Little Brother, the two embody not only the music but also the language and lifestyle from the culturally rich state of West Bengal, India. Dada (Ciro) is a talented and expressive percussionist who speaks through the Tabla and takes the listeners on a journey through the language of the drum.  Babu (Andrew) transcends his instruments of Alto Saxophone, Folk Flutes and Bansuris, and the Tibetan Singing Bowls to weave a rich design of melodies stemmed from both the Classical and the Folk styles of music. The two nomad's are a pair that can't be missed; often caught sipping on chai, smoking a bidi and almost always speaking through their music.
Andrew Kay
Alto Saxophone, Tibetan Singing Bowls, Flutes & Whistles, Percussion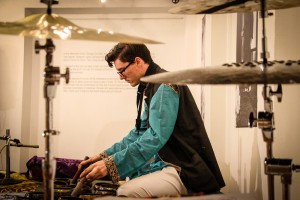 Andrew Kay is a versatile musician and artist from Toronto performing music ranging from Indo-Jazz, World Music and Indian Classical Raga Music to Contemporary Jazz and Improvised Music. Currently based out of Kolkata, India he has spent the greater part of the past 5 years studying, touring and performing throughout India and North America.  Andrew and his brother Jonathan Kay, are amongst the first musicians in the world to adapt the ancient art form of Raga music onto their western instruments and perform it professionally on the saxophone.
Inspired by his love of India and his travels of the country, Andrew composes and creates unique original music using instruments such as the Saxophone, Eastern Woodwinds and Percussion, and the Tibetan Singing Bowls which captures the essence and vibrations of the rich musical traditions of India. Andrew also has a deep love and knowledge of the Tibetan Singing Bowls and is exploring their applcation in healing and therapeutic practices of Yoga. He has performed and conducted workshops in yoga studios across Toronto utilizing a collaborative approach Sound & Yoga.  Utilizing his deep knowledge of Indian Classical music, the structures of sound and vibration, and the power of intuitive improvisation, Andrew creates an integral journey of sound that not only supports, but enhances the personal experience of Yoga for a truly healing practice.
Andrew is an avid photographer and film maker. He was inspired to get behind the camera during his first trips to India and has since framed and composed thousands of photographs and captured many hours of footage throughout his travels. He has shot and created many short films for music as well as feature length documentary 'Hari OM Tatsat' on the lives of two Bengali Maestro Vocalists.
Searching for the balance between a deep sensitivity of sound and a vivid expression of visuals, Andrew explores his visual artistry through graphic and web design. Andrew has done artwork for many music albums and other music projects and also designs and manages various websites.
Andrew is also an enthusiastic educator and promoter of the arts and has taught many students privately and in clinics throughout the world.
Andrew-Kay.ca, Monsoon, Monsoon Trio
Ciro Montanari
Tabla & Percussion, Digeridoo, Mouth Harp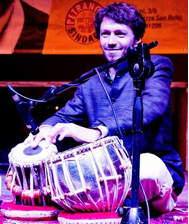 Born in Ravenna in 1979, in 2003 he began to study tabla under the guidance of Pandit Sankha Kumar Chatterjee, a former professor of the Rabindra Bharat University Kolkata (India), following his seminars in India, in Italy at the Cini Foundation and through the association "Narada Suoni dal Mondo".
From 2005 to 2009 he attends the Extra European Traditions accademic course at Consenvatorio A.Pedrollo in Vicenza (Italy) under the guidance of Maestro Federico Sanesi, he himself a student of Pandit Sankha Chatterjee since 1980,who has been involved for over 30 years in the research and integration of different musical languages.
From 2012 he regularly follows as accompanist the seminars of Ustad Daud Khan at the "Labyrinth" school of music in Crete (Greece),founded by the world renowned musician and composer Ross M. Daly.
Since some years he works as musician in Italy, Ireland, France, Spain, Poland, Greece and India. Since 2005 he collaborates with the group Rasa Seyir, quartet of Turkish Music. From 2007 to 2012 in Ireland with a collective of musicians called "Bahh Band", melting in the sounds and the elements of Indian Music the Blues and the Irish Traditional Folk. Since 2012 in Italy he collaborates with the Samvad duo, Virginia Nicoli and Igino Giovanni Brunori, disciples of the Gundecha Brothers. In Spain with the trio " Pajarillos" with Efrèn Lopez Sanz and Miriam Encinas Lafitte proposing a repertoire of Afghan Traditional music as well as original compositions.
A part from this projects he collaborated with the following artists:
Pandit Rabindra Goswami Narayan, Sitar (Benares, India), Sougata Roy Chowdhury, Sarod (Kolkata, India), Ustad Daud Khan Sadozai, Rabab (Afghanistan), Rishab Prasanna, Bansuri (Delhi, India), Rajib Karmakar, Sitar (Kolkata,India), Zohar Fresco, Bendir, Riq, Darbouka (Israel)
Pedram Khavar Zamini, Zarb (Iran), Aleix Tobias Sabater, Drums, Bendir and traditional Iberic Percussions (Spain), Riccardo Battaglia, Sarod, Chitarra (Italy), Peppe Frana, Oud, Rabab and string instruments for Ancient Music (Italy), Alexandre Jurain, Esraj (India/France) and other musicians.
Ensemble Pajarillos, Samvad Trio, With Aleix Tobias Sabater and Band